Calloway & Associates, INC.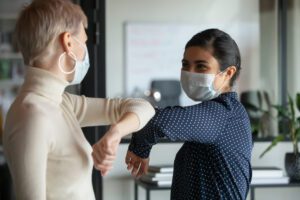 Under the guidance of Helen Calloway, Managing Director, the Human Resources Department continues to closely monitor the evolving situation regarding the spread of the coronavirus (COVID-19) and variants. The health and safety of all our employees and their families remain our priority as we continue to support the mission of Calloway & Associates. We remain committed to providing all Calloway employees with a safe and welcoming environment.
 
If you have questions regarding your work or on-site environment, please contact any member of the Human Resources Department at the Corporate office. All Employment-related questions concerning the coronavirus, including the use of PTO, or any type of leave, should be emailed to Human Resources.
We urge you to do your part to limit the spread of COVID-19 and its variants. We appreciate all of your diligent efforts during this time.
On the occasion of your visit to the Corporate Office, while we are open to the public, we continue to wear masks, maintain social distances and employ proper hand-washing procedures.
We'll get through this together.
Don't Forget to:
Regularly monitor email communications from Calloway & Associates regarding COVID-19 and Calloway's actions.

Ensure you have updated all email and contact information in the ASCENTIS Self-Service system.

Continually monitor the CDC website for the latest updates.

Please take care of your self, your loved ones, and others by wearing masks, maintaining social distancing, washing hands frequently, and obtaining vaccinations and boosters.
For more information, please visit the sites below: